We're your one stop scale model train shop!
HO Scale Products
Central Hobbies carries a complete selection of HO scale model railway products.
---
We carry train sets from Walthers, Athearn(when they are produced), selected Bachmann sets and some Thomas Sets.
Most train sets are complete with Locomotive, cars, track and a power pack. Some Walthers and Bachmann train sets have a basic DCC controller.


---
We carry locomotives models from:
---
We stock a selection of passenger cars from the following manufacturers:
Bachmann
Con-Cor
and others.
---
We stock a large selection of freight car kits from the following manufacturers:
Accurail Box Cars, Reefers and others,
Atlas HO Scale Freight cars. These models are limited runs. The supply will be best when the model is released. Advance reservations are accepted for these models.
Athearn - We stock many models in this line.
Kadee Box Cars,
Fox Valley cars.
Roundhouse - Model Die Casting.
InterMountain We stock some kits and many assembled cars from InterMountain
Märklin We stock a few Märklin items and can obtain any current stock items.
Roundhouse Freight Cars.
Trains Canada Although Trains Canada has closed we do have a stock of some of their cars.
As well we models from Proto 1000, Bachmann, Con-Cor, Kato, Model Power, Tichy, and others. Other manufacturer items are available on special order.
---
HOn3 Narrow Gauge - - - - - - - - - -
We stock some HO scale narrow gauge products in HOn3
MicroTrains (noted for their N Scale Products) is producing a series of cars in HOn3. Micro Trains HOn3 Cars in Stock..
Micro-Engineering makes HOn3 flex track and dual gauge track in various codes (70, 55 and some 40).
Peco has released Code 70 HOn3 flex track. #5 turnouts are now in stock for $ 37.50 each.
Shinohara makes HOn3 flex track, HO/HOn3 dual gauge track and single and dual gauge turnouts. Most dual gauge turnouts on hand.
BlackStone Models (a division of SoundTraxx)
Box cars, stock cars, flat cars, gondolas (high and low side), some tank cars and passenger coaches are in stock.
Their basic HOn3 track system is in stock. Patterned after Kato Unitrack (made by Kato) this clip together track will make it easy to build basic HOn3 layouts.
Precison Scale makes several car kits.
HOn30 Narrow Gauge - - - - - - - - - -
We stock a few HO scale narrow gauge products in HOn30 (HOn2 1/2). More can be ordered..
HOm Metre gauge
We stock Peco HOm flex track - $ 11.98 a length. Turnouts are available by special order. This track can also be used for TT.
---
HO scale track comes in various rail heights.
Code 100

Code 83

Code 83 is closer in height to modern mainline rail size.
When we can obtain stock we stock the complete Atlas code 83 track series and flex track. We stock the complete line of Atlas code 83 True-Track.
We stock Walthers turnouts in stock. As shinohar announced that they are closing in 2018, Walthers is picking up the code 83 product line. Walthers code 83 track is made by Shinohara and the new products are DCC friendly.
We carry Micro Engineering turnouts and flex track in both weathered and unweathered.
We can get the Central Valley turnout kits.
We stock the new PECO code 83 track and turnouts. It is a very nice product and made to North American standards.

Code 70 and 75

Code 70 represents about 100 lb rail.
We have some Shinohara turnouts in stock. As Shinohara announced that they are closing in 2018, this product line will dissapear unless some one picks it up.
We carry Micro Engineering turnouts and flex track in both weathered and unweathered.

Peco makes code 75 track and turnouts to British profile.
We stock some Peco code 75 flex track and turnouts. All is available to order.

Other Rail Sizes

Track Scratch Building Supplies

We carry Micro Engineering rail in all sizes (code 40, 55, 70, 83 and 100), all sizes on Micro Engineering spikes, Pliobond; ties from Mt. Albert.

Fast Tracks

Fast Tracks makes an excellent series of turnout construction jigs. They come with comprehensive instructions. Even a novice at turnout construction can produce a working turnout every time.

Switch Machines

Atlas makes several switch machines for their own track.
We stock most of the varieties of Caboose Industries Ground Throws.
We stock Tortoise Slow Motion Switch machines.
We stock Cobalt Slow Motion Switch machines.
we stock the ANEmodel
Turnout Controls. These use model aircraft solenoids to control the turnouts.
We have the various flavours of Peco switch machines.
Other types of switch machines (including used twin coil) are available from time to time.
---
We have an extensive selection of building kits from many manufacturers. DPM, Atlas, Walthers,, Walthers, Bachman, Downtown Deco and many others.
---
Central Hobbies has the largest selection of Detail Parts in Western Canada.
We stock the Full lines of
Detail Associates
Details West
We stock some of the Miniatronics line of lights, LED's and lighting units
Ngineering - we stock most of the Ngineering line of LEDs, lighting kits and tools.

Cannon
Hi-Tech Details
Tichy
Northwest Shortline
Kadee (We have the Full coupler and detail parts lines)
Railflyer
Kaslo Shops
Grandt Line
A-Line
and others.
We stock some parts from Precision Scale, Plano, InterMountain, New England Rail Service, American Model Builders Inc., Sylvan, Athabasca Scale Models , BranchLine, BLMA, and others.
We have a shrinking stock of Athearn shells. We have frames, shells and detail parts for cars and locomotives.
We carry replacement wheel sets from North West Shortline, Kadee and InterMountain (regular and semi scale).
---
We carry the complete line of Kadee couplers including the new "Whisker Couplers" as well as some of the popular clones. We have the New Scale size Kadee couplers (#58s) and Whisker couplers in stock. For those of you using Horn-Hook couplers we stock Athearn couplers.
---
We carry the full line of Woodland Scenics scenery products as well as the Woodland Scenics SubTerrain System. We stock the Woodland Scenics Premium Tree Line. We have products from Faller, Heki and others.

We have some
Back Drops in stock.
As of January 21, 2016 these are the Roll outs in stock.
SceniKing HO Scale Roll Outs
Part
Number
Description
Price
Stock on
Hand
M001
Hardwoods
$ 49.95
1
M009
Midwest
$ 49.95
1
M011
Spruceline Windbreak
$ 49.95
2
M018
Edge of Town
$ 49.95
1
M019
Mill to Town Core
$ 49.95
1
M022
What the Conductor Saw
$ 49.95
3
M023
What the Brakeman Saw
$ 49.95
1
M024
Field's End
$ 49.95
1
M026
Field`s Start
$ 49.95
1
M027
County Line
$ 49.95
1
M028
Country Xing
$ 49.95
1
M030
Village in Hardwoods
$ 49.95
1
M052
Ewan Mountain
$ 49.95
1
SceniKing HO Scale Sky Roll Outs
Part
Number
Description
Price
Stock on
Hand
X007
Wild Blue Yonder
$ 49.95
2
X008
Beyond the Blue
$ 49.95
2
X009
Angry Skies
$ 49.95
2

Sceniking Roll Outs are now in stock. These are Six feet long and 16 1/2" high. In twelve different scenes. Various scenes may be joined end to end to create longer scenes. Unfortunately Sceniking is stopping production this year(2015).
We have a few Walthers backdrops. All can be ordered in.
---
We carry the full line of Kalmbach hobby books as well as books from Atlas and Carstens and others. See the Books pages for partial listings of prototype books.

We carry over 400 railroad related titles. See our book pages for a relatively up to date listing.
---
Floquil, PolyScale and TrueLine paints are going away. We have a shrinking selection of railroad colours from Floquil (Floquil and Poly Scale), and TrueLine Trains.
As of June 2015, Scalecoat is being discontinued. We have a very small stock of Scalecoat paint (Please note that complying with the Government Safety Regulations ( relabeling and safety cap) adds $ 1.00 to the landed price of ScaleCoat paint.) and a shrinking stock of discontinued Scalecoat CN sig Colours CNR, CPR, BCR and VIA paints.
We stock some Model Flex. All colours are available by order.
We carry Humbrol enamels and Tamiya acrylic paints.
We have a diminishing stock of Accu-Paint.
We are looking into the Vallejo paints, especially the aibrush ready ones. We have been hearing good things about this paint. They are not railroad specific colours but with the extensive line of Vallejo paints, there should be something close enough or close enough to mix.
We are looking into the Proto-Paint by George's Trains. Shipping may increase the landed cost but they look to have a good selection of colours.
We stock the Hunterline weathering stains.

We were starting to bring in the Tru-Color paints but the Government got in the way. We are looking for a way to legally bring this paint into Canada.
We have an extensive selection of decals from Micro-Scale, CDS (Please note that CDS is now out of business so our stock is dwindling), Black Cat Publishing, CN sig Decals now BlackCat, Daley Designs , and others.
---
We carry resin kits from
---
Wood
We carry wood from Mt. Albert .

Northeastern products are available on special order.

We have the full rack of Midwest Balsa Wood, Basswood and Plywood.
Brass
We stock K&S metal shapes (Brass, Copper and Aluminum) in one and three foot lengths, and Special Shapes.
We have the K&S Metric Rack.
Stainless Steel
We stock K&S Stainless Steel metal shapes.
Plastic
We have the complete Evergreen and Plastruct styrene racks. Other Plastruct items (in styrene or ABS) are available on special order.
Glues
From Styrene cement to Super Glues, we carry many types of glues. 'Walthers Goo' is not currently available in Canada but PlioBond is.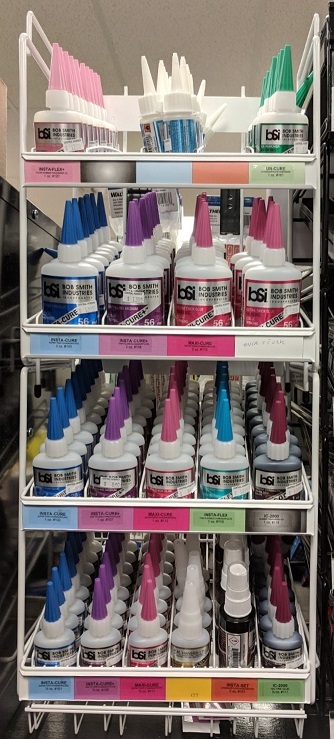 Bob Smith Super Glues.
Lighting
We have a few 1.5V and 12V bulk lights.
We stock lights from

Miniatronics and others.
We have LED products from Miniatronics, TCS, Digitrax, NCE, Ngineering, Evan Designs and others.
---
A model railroader need tools. Whether it is just an Atlas track saw or a North West Shortline chopper, we stock them all.

We have the complete line of Woodland Scenics Tidy Tracks cleaning products.
Knives, blades, taps, drills, scale rulers, sprue nippers . . . or whatever. We have it or can get it.
Die, Tap & Drill Sizes
Die size:
#00-90
#0-80
#1-72
#2-56
Rod Size:
.047(3/64)
.064 (1/16)
.073
.086
Tap Size:
#00-90
#0-80
#1-72
#2-56
Tap Drill Size:
#61
.055 (#55)
#53
#50
Clearance Drill Size:
#55
.052 (#52)
#48
#43
Foam Working Tools
Hot Wire Foam Factory
We stock foam working tools from Hot Wire Foam Factory.

We also carry the Woodland Scenics Hot wire cutter.
---
If there is a particular item you are seeking that we don't have in stock, please don't hesitate to ask for it. We will special order most anything. Items in stock at most major distributors can be obtained in a week or two. Out of stock items can be back ordered for delivery when they are produced.
Please note that if the company is outside of the major distribution channels, special orders will take some time. Many companies require minimum orders from stores (a person can often order one item at a time) so it may take a while for us to get a large enough order to send to them. In these cases we will advise you if it is faster to order direct.
---
Updated November 6, 2018.
---
www.central-hobbies.com
Central Hobbies
2825 Grandview Hwy, Vancouver, BC
Canada , V5M 2E1
Phone 1-604-431-0771, Fax 1-604-431-9855
Orders Only 1-888-7TRAINS (1-888-787-2467)
Page and Contents Copyright Central Hobbies 2015, 2016, 2017, 2018.

---