We're your one stop scale model train shop!
---
Max Jacquaird Prints
Bio: Max Jacquiard, a resident of Coquitlam, British Columbia, has become one of the most respected artists in Canada in his specialized field of painting images of trains. A printer by trade, Max has been painting steam trains exclusively since 1981. These powerful acrylic images on canvas conjure up visions of the strength and romance of the steam trains that have been a part of his life since his early childhood in both Flin Fon, Manitoba, and his later move to British Columbia. Max is a member of the 'Society of Steam Era Artists of America'. The evocative nature of Max Jacquiard's paintings have captured the imaginations of steam buffs across Canada and the United States. His paintings now grace the walls of many North American homes and corporate offices.
Central Hobbies carries Max Jacquiard prints.
The prints are available framed and unframed and in some cases in canvas editions.
---
These are the Banman Publishing Max Jacquaird prints we have in stock.

This page will be update later this summer (2014) when we inventory our max prints.
---
October Morning, Fraser Canyon
The October Morning, Fraser Canyon Framed canvas edition is available for $ 1050.00
Image Size 23" x 30"
Canvas Edition 60 / 25 AP / 15 PP
Framed Canvas Edition - $ 1050.00
---
Then and Now
The Then and Now Framed print is available for $ 695.00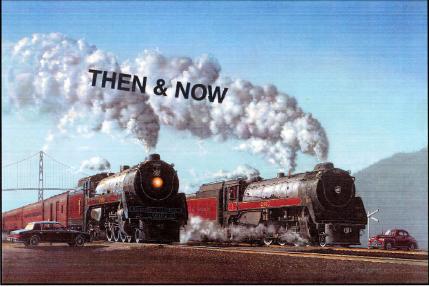 Image Size 20" x 30"
Paper 32/195
Framed Paper - $ 695.00
---
Other prints may still be available. Please contact us with your enquiries.
Images and text from Banman promotional material are used with permission of Banman Publishing Inc.

Please note the images are scanned from publicity material so they differ (in some cases markedly) from the actual images.
---
Updated June 25, 2014



Main Page - New Products Page

www.central-hobbies.com
2825 Grandview Hwy, Vancouver, BC,
Canada, V5M 2E1
Phone 1-604-431-0771, Fax 1-604-431-9855
Orders Only 1-888-7TRAINS (1-888-787-2467)
Page and Contents Copyright Central Hobbies 2014

---