BC Day
CNRHA
The Canadian National Railway Historical Association has released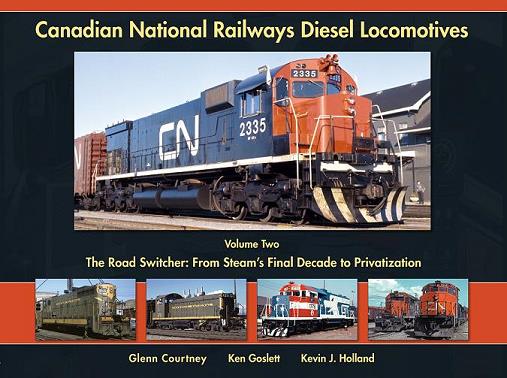 Canadian National Railways Diesels Vol2. The Road Switcher: From Steam's Final Decade to Privatization.
$ 54.95 Cdn$.
Bowser GMD SD40-2 Locomotives
Bowser has announced HO Scale GMD SD40-2s locomotive models. ONR, CP Rail, BCR and BC Rail models have been announced with road name specific details.
The model information is now on our Bowser Web page. Reservations are being accepted for these models.
True-Line Trains SW1200RS
True-Line Trains has announced HO Scale Canadian National SW1200RS switchers. As well details of the CPR SW1200RS announcement have changed.
Orders by October for delivery of CPR Units Late 2014 and CNR units early 2015.
CNR SW1200RS Details.
CPR SW1200RS Details.
Reservations are being taken for these models.
True-Line Trains Pointe St. Charles Caboose
True-Line Trains has announced an HO Scale CNR Point Ste. Charles caboose. - MSPR - $ 84.99 Cdn$ - Delivery October 2014

CNR Red with Noodle (four road numbers) - International Service Scheme (four road numbers) - Ontario Lifesaver Scheme (three road numbers) .
Algoma Central Rd# 9604 - Alaska Railroad Rd# 1091 and a Kit.
Special Provincial Pack: - Ontario Hydro No. 79640, Southern New Brunswick No. 79635, Central Manitoba Railway CEMR No. 2000001, Cape Breton / Nova Scotia No. 1000,
Greater Winnipeg Water District Railway No. 1360 and CN Noodle - Workman


Special run from Central Hobbies - Rd#s 78191, 78192
All $ 84.99 Cdn$.
We are accepting reservations for these models now.
Images from Marc Simpson Railway Photographs - Used with permission.
Full details as to road numbers and pricing on the: Pointe St. Charles section of Our True Line Trains web page.
RAPIDO TRAINS Announcements
Due to the large number of Rapido trains Announcements I have created a separate Rapido Trains Announcements web page.
RAPIDO TRAINS N-Scale GMD-1
New Model - Rapido Trains N-Scale GMD-1, six paint schemes plus undecorated.. Orders by June 2014 for delivery late 2014.











Click on the images for a larger view.
We are taking reservations for these models.
RAPIDO TRAINS Models
The GMD-1 model information is on the GMD-1 section of Our Rapido trains locomotives web page.
July 29, 2014 - Our first shipment of GMD-1s has arrived. All those who had reservations have been e-mailed or phoned.

These locomotives will be available in the CNR 54 Scheme(good looking green scheme), CNR 61 Scheme, CNR Bloody Nose; in A-1-A or B-B trucks. NAR in A-1-A Tucks. Undecorated in either A-1-A or B-B trucks. DC or DCC and ESU LokSound.
As we have ordered extra models for store stock we are still accepting reservations for most of these models.
Parking is available at the West end of the building and behind the building. You may use spots 1 through 20.
If you do not want to drive in Vancouver traffic don't forget you can get here easily by Skytrain.